JHF co-hosted the 2nd Roundtable meeting with Ginnie Mae
JHF co-hosted the 2nd Roundtable meeting with Ginnie Mae
release:October 21,2016
JHF co-hosted the roundtable meeting "2nd U.S.-Japan Housing Finance & Capital Market Roundtable" with Ginnie Mae, the Government National Mortgage Association, on October 17th 2016 in Tokyo.

JHF and Ginnie Mae signed a Memorandum of Understanding (MOU) in January 2014. It was the first roundtable meeting held in Japan in accordance with MOU.

The Honorable Hisayuki Fujii, Parliamentary Vice-Minister of Land, Infrastructure, Transport and Tourism delivered the guest speech following the welcoming remarks by KATO Toshio, President of JHF and the Honorable Theodore W.Tozer, President of Ginnie Mae.

There were three major topics covered in the meeting: MBS in the Capital markets, Reverse mortgage markets, Housing and macro-economic situation in the U.S. and Japan. The roundtable brought in around 100 housing finance experts in government, financial sector firms, and academia to share the current situations and challenges in both countries.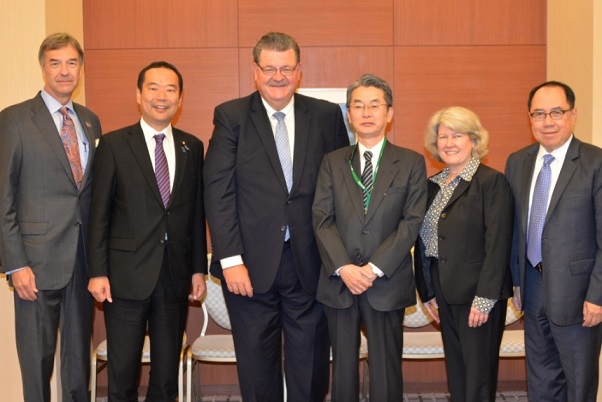 (From left)
・Mr.John F.Getchis;Senior Vice President of the Office of Capital Markets,Ginnie Mae
・The Honorable Hisayuki Fujii; Parliamentary Vice-Minister of Land, Infrastructure,Transport and Tourism
・The Honorable Theodore W. Tozer; President of Ginnie Mae
・Mr.KATO Toshio; President of Japan Housing Finance Agency
・Ms.Nancy Corsiglia; Executive Vice President and Chief Operating Officer,Ginnie Mae
・Dr.Alven H.Lam;Managing Director of International Markets,Office of Capital Markets,Ginnie Mae